Announcing WineFace, a free Android app
I've built an app for wine lovers that records your facial reaction to wines…
This app is no longer on Google Play, but you can find it on my Github, linked below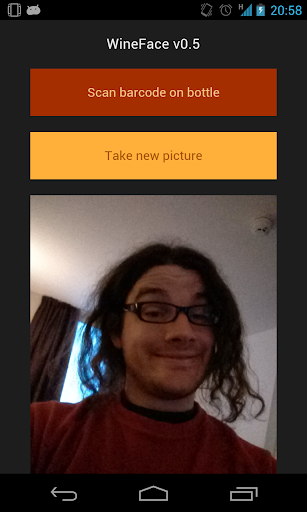 WineFace screenshot, avec smug Gav
I've built an app for wine lovers! You can find it on Google Play. I wrote this app because I have terrible difficulty remembering which wines I liked and which I didn't!
It's very simple. You scan a barcode, then take a photo of your facial reaction. Then, when you encounter that type of wine again, you'll know if you liked it by the expression that pops up when you scan it!
This app is still in Alpha. I've had some reports that this doesn't work on Samsung phones. Not sure why, but I'll borrow some Samsung hardware and see if I can fix it in the beta.
The app is HTML5-based and is built using Apache Cordova. As such, there's nothing stopping me doing an iOs or Windows build, although I don't have those devices to test on. In fact getting set up as an Apple developer is REALLY pricey – I'd have to shell out for a Mac, an iOs device for testing, AND a developer account – probably at least £1500 total! Also, I don't know if they accept hybrid apps on the app store. Anyone know much about this without me having to look it up? Apple's not really "my world"!
Of course, it's open source on my Github 🙂
Hope you like it!